Southern Mac & Cheese
I LOVE a GOOD Southern Mac and Cheese and as I'm going to develop this recipe (I've tested ALOT!!) The one that worked for me was Danni Rose's from Stovetop Kisses. I am still in the process of development because I do not feel like the recipe is perfected yet, but this quantity (of ingredients and portion size) is pretty darn good! I tried this recipe before and doubled it, but dividing it and adding a little more sour cream plus some seasonings has gotten me closer to what I would say is 'perfection'. Although I am a perfectionist and was waiting to develop the BEST I could, everyone has been texting and calling for this recipe, so I went ahead and typed up what it was that I did. I'm sorry I didn't measure (I never measure when testing) unless it was intentional and I didn't plan on putting this recipe up anytime soon. Anyways, let's get into it y'all!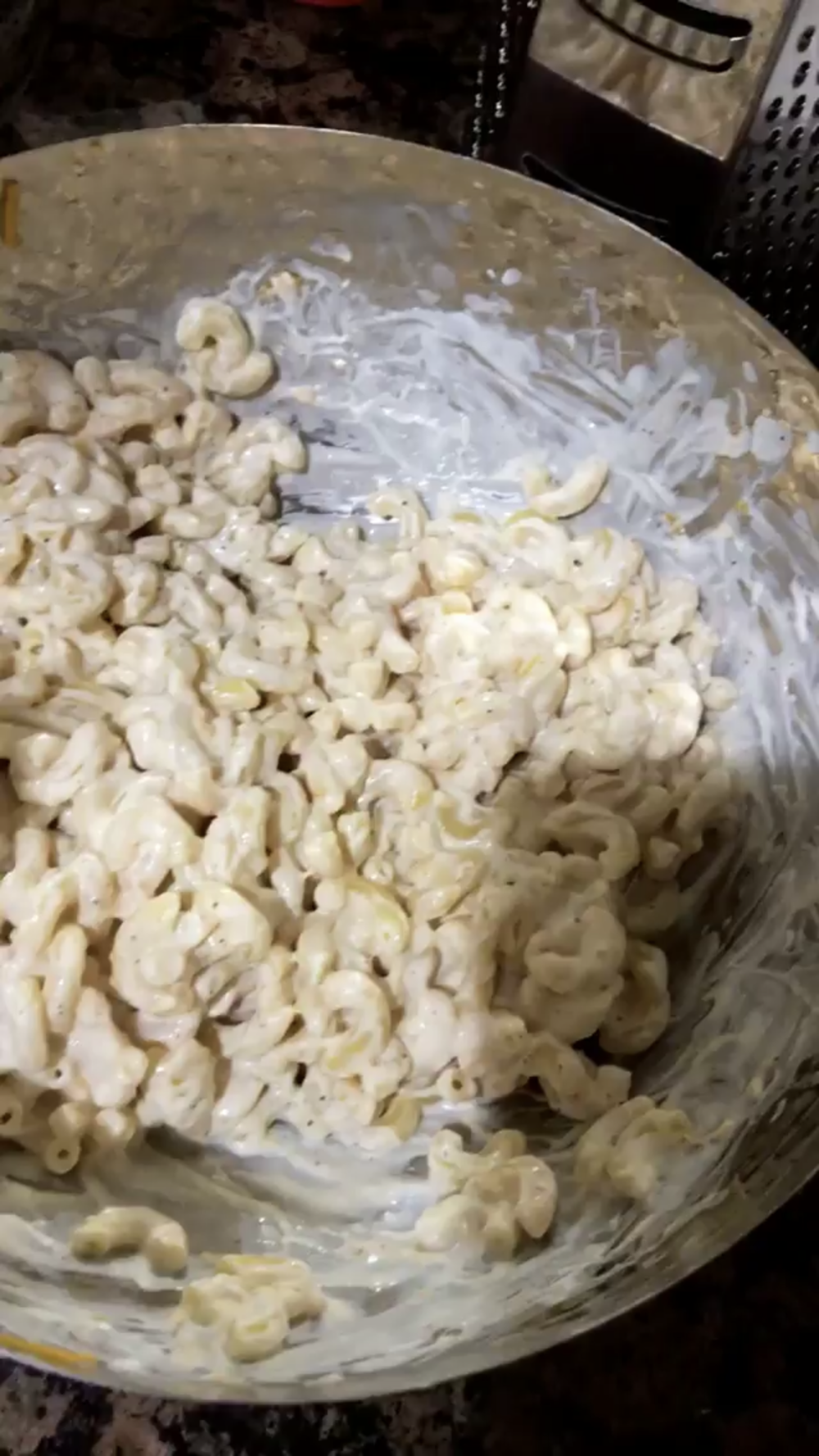 This is how your Macaroni, Butter, and Sour Cream should look! P.S. I know these aren't the best pictures, but this is what I have! Lol!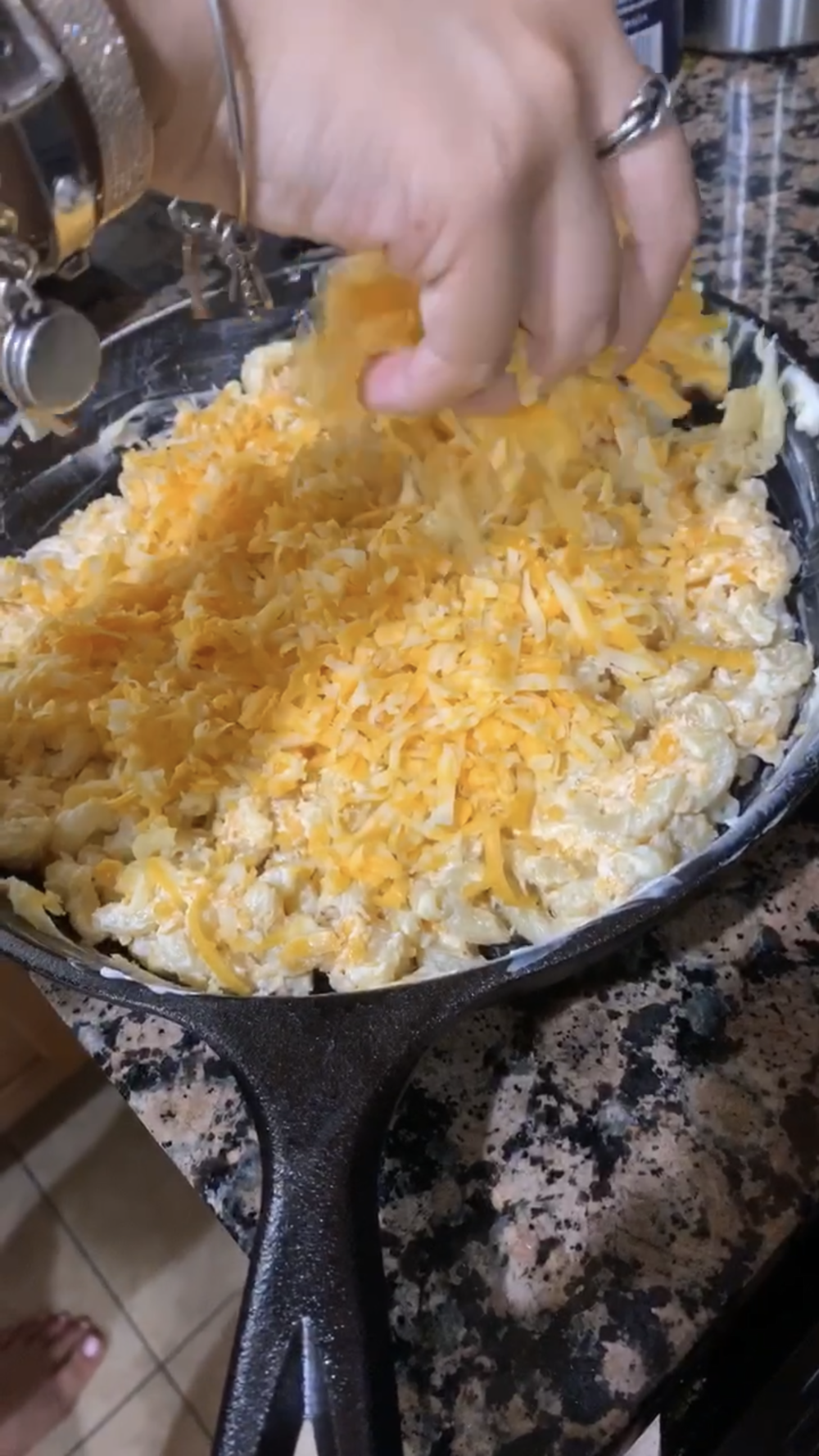 LAYER, LAYER, LAYER! You want an extra cheesy Mac and Cheese and the secret to that is LAYERS of OOEY GOOEY CHEESE.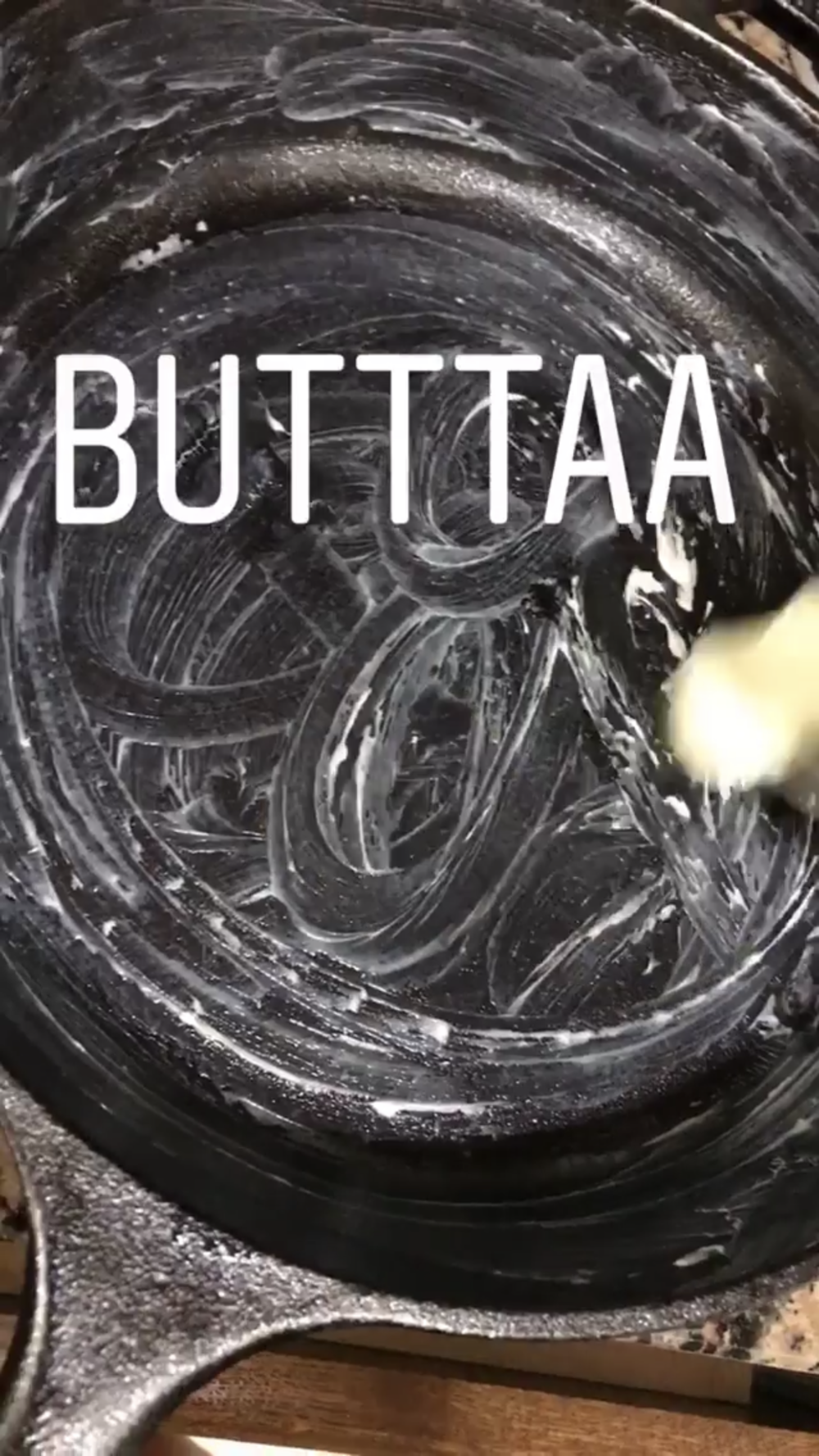 BUTTER your pan like your life counts on it…This creates that great crispy, golden exterior.
Okay now let me get to the STAR of the show…I mean the REASON that this Mac and Cheese is THE BOMB DOT COM…DRUMROLL the $15 Lodge 10.25" Cast Iron Skillet. YEP! I said FIFTEEN dollars…1-5!!! This cast iron is honestly a God send. A kitchen MUST!!!! Get it! Like now…What're you waiting for?!?!?!
Southern Mac & Cheese
This is the most simple, yet flavorful Baked Mac & Cheese to date. You don't need to be a professional, but everyone will sure look at you like you are one with this recipe!
Makes: 12 servings
Prep time:
Cook time:
Ingredients:
Black Pepper
5 tbsps of Butter
Cayenne
4 cups of Cheese (Cheeses of your choice...I used a 16oz block of Sharp Cheddar and a 16oz block of Sharp Colby and Monterey Jack)
16oz of Chicken Stock
2 eggs (original recipe calls for 3 large eggs, this is half, so I use 2 small/medium sized eggs)
1 3/4 cups of Elbow Macaroni noodles
Garlic Powder
3/4 cup of Heavy Cream
Onion Powder
Paprika
Salt
1/2 cup of Sour Cream
Tony Chachere's Creole Seasoning
3/4 cup of Whole Milk
Instructions:
Preheat oven to 375°F
Bring Chicken Stock to a boil and cook Macaroni *noodle should still be firm since it will cook further in the oven
Drain Chicken Stock, but DO NOT run under cold water...Pour macaroni into a mxing bowl
Add 4 tbsps of Butter to your Macaroni and mix until well combined (it should melt from heat of your macaroni noodles
Add Sour Cream
Add your seasonings, I started with 1/2 tbsp of each and just added more to my liking. (Taste It!)
Add about a handful or so of your cheese into your macaroni mixture (I shredded my cheese before starting)
Set Aside and make your custard
In a separate bowl, whisk together your eggs, heavy cream, and whole milk.
Butter your cast iron skillet!
Layer your macaroni mixture, add a handful of cheese, and pour about 1/3 cup of the custard at a time
Continue layering your macaroni, cheese, and custard.
Top with the rest of your cheese and sprinkle with Paprika for color.
Bake on 375 for 45-60min or until Golden Brown!
ENJOY!